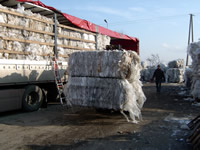 Enterprise business service Bronson was set up in October 1995 as a firm specializing in and processing raw materials. Within ten years of its existence the firm has got a lot of experience and has been spreading out systematically. We concentrate our attention on a widely comprehended complex of economy wastes. We constantly invest in a technical infrastructure of our plant. We are also concentrated on recycling of wastes obtained from artificial materials, simultaneously preparing for changes on market of waste. Our knowledge, expertness and reliability give measurable results in the form of larger number of satisfied clients. We operate on polish and foreign markets of materials and wastes. We are one of shareholders of polish-wide organization of recycling ReEko. We win and remake nearly 240 000 tones of
secondary raw materials a year. Owned technological back, wide, dependable knowledge, many years experience and acquired abilities guarantee, that charter granted us is not work of case.
Our plant is contained in Kiełczów, near Wroclaw, on the three hectares area. Activity of our plant does not make threat for the environment. Among others, efficient machines allow to achieve high level of processing many material / PET, PEHD, PELD, PS, ABS, PVA/. Materials produced by our plant are used in many branches of economies such as: electronic industry, motorization, construction, agriculture, wraps industry/ packaging.
Our service activity includes:
Receipt personal transport

Milling of artificial materials' wastes

processing (remake) and recycling consistent with requirements and directives of European Union
Additionally we testify services local and international transport. In case of transport order execution of services is on a high level and in definite deadline.
We invite to the co-operation. Professional and solid service, Competitive prices, convenient conditions of payment and our own transport. We exposure cards of transfer of waste, and also documents confirming recycling.